Custom Mini Flags&Small Custom Flags
Custom mini flags and small custom flags offer unique ways to express yourself, brand your business, or celebrate. These personalized symbols are authentic and of high quality thanks to the craftsmanship of experienced flag makers. Flag makers can create your design from pre-made templates, or even a custom one. Take advantage of this opportunity to promote your brand or commemorate special occasions with these custom flags. Wave your banner in the air and let your creativity fly.
Size:
Any size and any color is available.
Moq:
10
Shipping Cost:
Free Shipping!
Set-ups:
Free and unlimited colors!
Flag Material:
Knitted / Polyester/satin etc.
Processing Time:
You may receive them within 10 working days.

If you are in hurry, you can receive them in 5 days.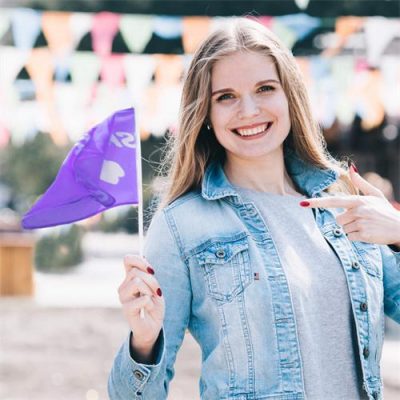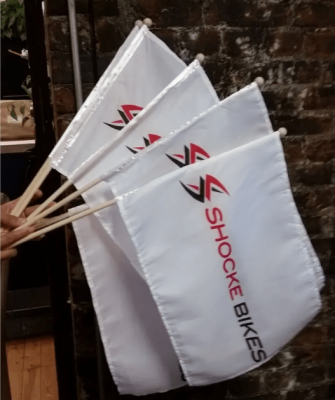 Custom Mini Flags rules
The rule of thumb says that a third of the length of the Custom Mini Flags pole should rise above the house itself. It may vary slightly, depending on the geography of the area, but it is usually a good measure.
Then you have to choose the Custom Mini Flags and pennant size. It shall be adapted to the length of the rod. A flag shall normally be one quarter of the length of the pole. The Custom Mini Flags will look best if it is a third of the length of the flagpole.
You rarely need a building permit to erect a flagpole. According to tradition, small custom flags should be used on red days and custom stick flags on the other days. Ideally, the vflag should only wave when it is bright outside, while the custom hand flags can be up all the time.
Our ideas for Custom Mini Flags
There are no laws that state this in usa, but those who want to stay well with neighbours and passers-by probably do the right thing to follow the custom somewhat anyway.
Of course, custom mini flags can also take place on anniversary days and other personal celebrations, and small custom flags on half pole is a clear sign that the family in the house is in mourning.
When a flag of mourning is to be carried, it should be hoisted all the way up first, to be hoisted down properly.
The usual thing is to raise small custom flags, but the flag of the region is perfectly fine. custom mini stick flags may also be used in Sweden. Also keep in mind that the flagpole is an excellent place for Christmas decorations.
Set up a custom mini flags, let it wind down along the pole and enjoy a perfect Christmas ornament that lights up in the dark.
Flag fabric for small custom flags
The small custom flags does not refer only to the "classic" ones that fly on the flagpoles outside the company headquarters or at the entrance of a fair, or at some sporting event.
small custom flags can in fact be used on mobile and resealable structures, which allow easy transportability and allow reuse over time and in various situations.
We recommend a minimum number of eyelets based on the length of the side of custom mini flags, because if the eyelets are too far away, the fabric would have to be stretched a lot, even risking breaking it.
How to fix custom hand flags
To attach custom hand flags to a structure there is no better fastening system, it depends on where you need to place it.
There are basically 3 different ways to fasten custom hand flags: with buttonholes, eyelets or laces. It must be immediately stated that in order to avoid damage or breakage of the fabric, with these systems we always recommend reinforcement at the point where they are affixed.
The buttonhole is a portion of the custom stick flags fabric that is folded and sewn, with a diameter of about half a centering, into which rods, tubes or ropes can be inserted. With this solution can be installed both vertically and horizontally.
Another alternative is to eyelet custom mini flags, or insert plastic or metal rings along the edges and corners. The further method is to use "laces" that are sewn on the side where the custom mini flags will be pivot, allow you to fasten it ropes or directly on the support structure.
Custom mini flags are popular ways to express identity, pride and celebration. These small but significant flags are of great value because they represent people, organizations, nations, and events. This article will examine the world of custom-made stick flags. We will look at their design, the quality of the flag makers' work, the available templates, size and design considerations, and the various options for purchasing them.
We also provide  Custom Car Flag  and tour guide flags.
.