custom rectangle flags
Size:
Any size and any color is available.
Moq:
2
Shipping Cost:
Free Shipping!
Set-ups:
Free and unlimited colors!
Flag Material:
Knitted / Polyester/satin etc.
Flagpole:
Heavy duty aluminum alloy flagpole, base
Processing Time:
You may receive them within 10 working days.

If you are in hurry, you can receive them in 5 days.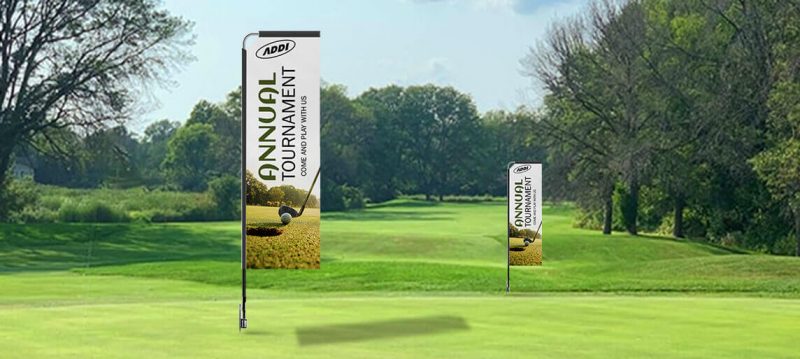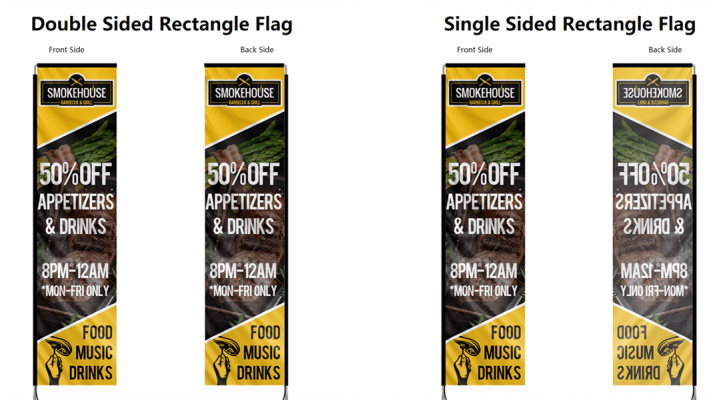 What is an rectangle flag?
The rectangle flagr has the largest customizable branding surface and therefore offers great visibility. It can display larger visuals and is available in 3 formats which makes it perfect for important messages. This type of outdoor advertising flame is often found in front of business buildings or at the entrance to trade fairs & exhibitions. The advertising flags have a strip for the mast on the left side (see photos). If you prefer it on the other side, it is possible on request. The rectangular flags are washable at 30 degrees (note: if you choose a black headband with a clear flag, the flag may discolor when you wash it).
An rectangle flag, It is an advertising medium that can be used by businesses, event organizers and many others to promote their business, brand or event.
Note: Our rectangle flag are printed on the front which is 95% translucent, so your visual will be visible on the back as well!
The complete set includes a carrying bag
Several bases available
Printed on durable materials
How to attract the attention of your potential customers with an rectangle flag banner?
The printing of rectangle flag banner, beach flags, advertising flames allows you to communicate efficiently and quickly at a lower cost. With several sizes, shapes and materials, advertising banners allow you to stand out from the competition and arouse the curiosity of your customers in an instant.
rectangle flag banner have a great advantage: they are easily customizable and have remarkable visibility thanks to their large printing surface. As a picture is worth a thousand words, beach flags will allow you to convey a clear, precise and concise message.
rectangle flag banner: what are the advantages?
Whether your advertising flame is installed at the entrance to your store or on your stand at a trade show or exhibition, it will always make good outdoor signage. Here's why you should have one or more rectangle flag banner:
Inexpensive rectangle flag banner give a professional appearance at a lower cost
rectangle flag banner are a simple and effective way to attract attention and generate interest
Advertising banners are made for both indoor and outdoor use
Advertising flames are easy to install and confusingly uninstall
The rectangle flag banner are so light that it is a pleasure to transport it
How to choose the right veil for your custom rectangle flags?
It may seem like an insignificant detail, but choosing the right advertising veil for your custom rectangle flags is important, because it can significantly increase its lifespan and maintain the brilliance of the colors of your visuals.
First of all, it is always good to think about where you are going to place your custom rectangle flags, is it indoors? Outdoors ? Will this place be sheltered? Etc.
If most of the events you attend usually take place indoors, then the flame flag, also known as a custom rectangle flags, combined with a classic 110g canvas will come as a no-brainer. Not only will the colors of your image look stunning on the fabric, but the light sheen finish of the veil will be a real eye-catcher at your events and trade shows. The classic polyester sail has a crisp, professional cut, making a great first impression on everyone who sees it. If you want a really resistant canvas for your custom rectangle flags, choose the 115 g Mesh canvas (Polyester).
If you want an custom rectangle flags suitable for outdoor and indoor use, opt for the drop flag. It is perfect for events such as trade shows or in front of a store. You can also choose the rectangular banner if you need more room for your design.
What is the lifespan of an rectangle flag?
All our rectangle flag are made for several years. There are obviously many factors that can influence the lifespan. It depends on the location, the rectangle flag is inside or outside. It also depends on weather factors, wind, rain, etc. Nevertheless, to improve the lifespan of your banner, you will have to choose its base carefully. It is the foot of your advertising flame that will ensure that your rectangle flag does not fly away. Fortunately, Helloprint offers different feet depending on the use of your advertising banner: (foot suitable for sand, grass, stable/unstable surface, etc.). Finally, the material of your advertising flame will also have an influence on its lifespan. Then opt for the long-lasting canvas without hemming.
We also provide  Custom Car Flag  and tour guide flags.
.