Custom Swooper Flags
Size:
Any size and any color is available.
Moq:
2
Shipping Cost:
Free Shipping!
Set-ups:
Free and unlimited colors!
Flag Material:
Knitted / Polyester/satin etc.
Flagpole:
Heavy duty aluminum alloy flagpole, base
Processing Time:
You may receive them within 10 working days.

If you are in hurry, you can receive them in 5 days.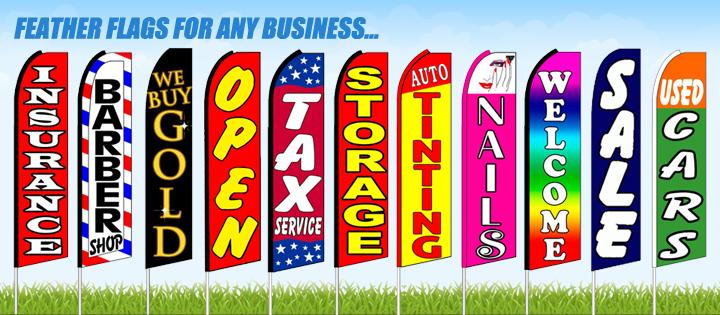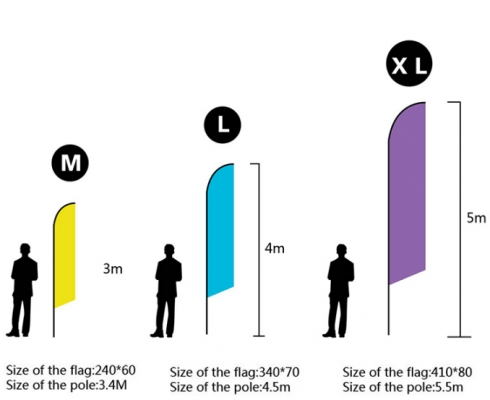 New custom swooper flags for fashionable communication
It is never easy to find new ways to attract the attention of passers-by and motorists, especially in environments saturated with advertising messages of all kinds. To achieve this, two factors are essential: an effective message and a medium capable of offering it high visibility. For the first, it's your creativity that comes into play. And we take care of the second. Our new custom swooper flags are large swooper flags, perfect for outdoor use. For example, you can use them to promote your events or your brand on the beaches, or to announce the presence of your point of sale near particularly busy roads.
With CKFLAG you can easily customize and order yourcustom swooper flags online. We will take care of transforming your winning ideas into reality, by printing your visual on a unique medium with an attractive design.
The characteristics of our custom swooper flags
Our custom swooper flags have an aluminum structure that is both resistant and light, and a 115 g anti-wind nautical flag fabric, a material which, thanks to its weft, is able to withstand strong currents. 'air. This media is also incredibly suitable for printing: you will be able to show off brilliant color images with high definition details, resistant to wear (at least 2 years outdoors).
The characteristics of our custom swooper flags
You can choose the format you prefer (XS, S, M, XL) and the base adapted to the context of use for which it is intended:
Cross-shaped: X-shaped for high stability.
Tip: Equipped with a double steel tip and a rotating pivot for the insertion of the pole, it is perfect for terrains such as sand or grass.
Round: also equipped with a rotating swivel and L-shaped pegs, it is suitable for flat and linear surfaces such as roads, driveways, etc.
Weightable: the base can be filled with water or sand, thus guaranteeing great stability and excellent resistance to the strongest air currents.
Weighted cross-shaped base
You already have the structure and you want to print only the canvas with your new visual? It's possible ! Just select "print only" on the product page.
Personalize and order your swooper flags online
With Pixartprinting, you can print your swooper flags in just a few clicks, directly on our site:
Download the template at your disposal and follow the instructions to correctly create the file containing your ad hoc visual. In this way, you will be sure to obtain an optimal result, adapting the image perfectly to the support.
Select the customization options you prefer, indicate the quantity and add your product to the cart.
Download the file containing your visual and finalize your order.
We take care of the rest. You will receive your personalized beach flags directly at the office with fast and punctual deliveries. Remember to order in advance to take advantage of even lower prices!
Our customer service is at your entire disposal: you can count on their help to make your choice or to solve any possible difficulty.
A multitude of ways to express the same message
Thanks to CKFLAG, you will discover a wide range of products to give shape to your outdoor communication. In addition to our swooper flag, you will find many solutions to express your messages in an original and surprising way. Visit the section dedicated to outdoor displays, where you can compare advertising flags, roll-ups, tarpaulins and customizable gazebos. Choose the one that best suits your needs and order it now to take advantage of the excellent value for money!
Are you organizing a promotional day on the beach for your new event? You will find everything you need on our site, from customizable colorful wristbands to leaflets and flyers. A unique partner to promote your activity at 360 degrees.
We also provide  Custom Car Flag  and tour guide flags.
.